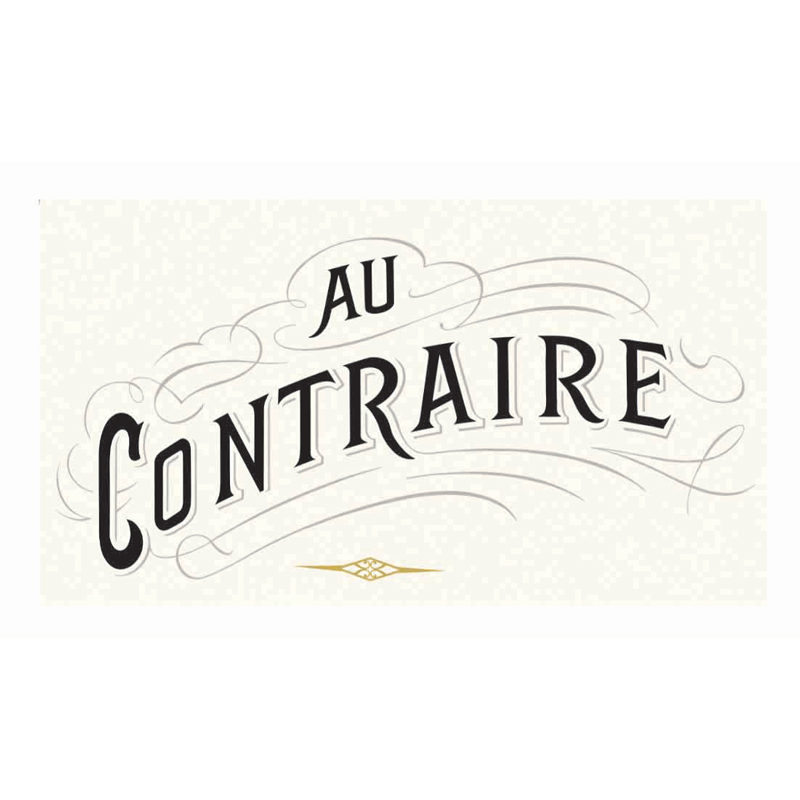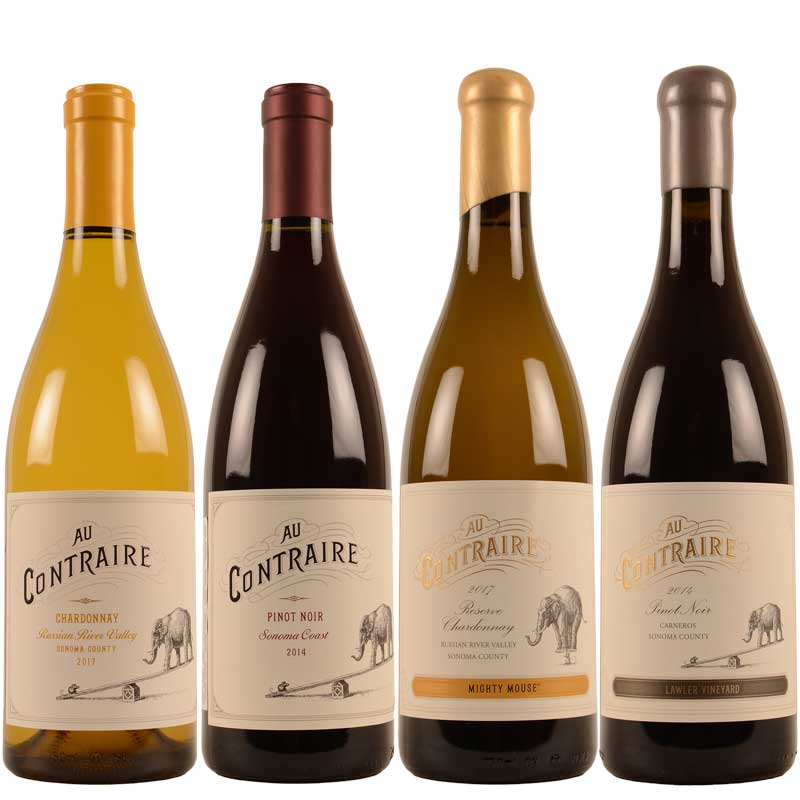 Wine that revels in turning the ordinary into something extraordinary! 
The wines of Au Contraire are specially made for those who fully embrace life. For those who make the impossible possible!
The company founder David Taub, would often use the phrate 'Au Contraire' to motivate colleagues, friends and family to seek out creative soutions and accomplish unexected results. He touched everyone he met with his charisma, compassion and tenacity. This vision is also presented in a fun way on the label with an illustration that turns expectations upside down.

Au Contraire was the first family vineyard of the renowned Taub family in Sonoma County. Au Contraire has enviable "Cool Climate" vineyards, especially in these times with the famous Goldridge soil, sandy with regular loam and clay layers.

Just like in Burgundy, Pinot Noir and Chardonnay are the royal couple, and just like in the Côte d'Or, the best wines in the world are made here. The exceptional quality is guaranteed by the legendary Californian winemaker Tom Hinde and his experienced team. 
The wines:
- Au Contraire Sonoma County Pinot Noir: 100% Pinot Noir. Handpicked grapes. After careful pressing, a first fermentation on stainless steel followed by malolactic fermentation on wooden barrels with regular stirring of the lees. (Indigenous yeasts) This is followed by ripening on 100% French oak. The result is a beautiful, deep cherry red color. In the nose those same cherries, strawberries and a hint of plum accompanied by a pleasant, soft, spicy undertone. Elegant and silky mouthfeel that supports the delicate but ripe fruit. The final swells wonderfully and continues to touch the palate. Pinot Noir with style that easily places itself next to top Bourgognes.
- Au contraire Russian River Valley Chardonnay: 100% chardonnay. The grapes are gently pressed without desteming and undergo a classical fermentation (on Burgundian yeasts) The wine matures on its Lie with regular stirring. A part stays on stainless steel and a part matures on French oak of which 30% new for 8 months. The wine has a beautiful, light, golden color with green hues. Creamy nose with a refreshing touch of citrus. Hints of ripe pear and green apple accompanied by a touch of Jasmine. Delicious balance between fresh tones and notions of brioche and toast. The final is nice and soft with sufficient tension and lets you enjoy it for a while. Pure class!
- Au Contraire Sonoma County Carneros Pinot Noir Lawler Vineyard: A first fermentation takes place on stainless steel, after which malolactic fermentation takes place on its lees in large wooden barrels. The aging takes place on French oak for 11 months. Bright ruby red color. Delicate aromas of cherries, tea and toast. The French oak adds hints of Sarsaparilla root. Round and mild character where the pure fruit immediately stands out. The final is remarkably balanced and long. This exceptional wine stands easily between the really big names of the Côte-de-Nuits in Burgundy!
- Au Contraire Sonoma County Carneros Chardonnay Mighty Mouse: 2 types of clones from Chardonnay. Wente for taste and aroma and Dijon Kloon 76 for fraichness and structure. The combination guarantees a rich and complex wine that is 100% aged in French oak for 16 months. Golden yellow color. Expressif nose of ripe pear, yellow apple, apricot, jasmine and a delicious vanilla touch. Full, rich and ripe fruit continues in the mouth. Nicely fused and balanced. In the long final, more tropical fruit comes up accompanied by a hint of brioche.
Who again said that the best Chardonnays and Pinot Noirs are undoubtedly from Burgundy? You'll definitly say AU CONTRAIRE!